Most of the techniques shown here are from what I learned and adapted to my use. Certainly there may be people who do the same thing in a better way. But what I do I am passing to who else might be interested in trying it.
When trying to sculpt something one must be familiarized with the object of the work, what is clear in this work that I am not. The project is just an exercise, something not so serious, hence there is nothing to worry about.
The lion sculpture
In the medieval castle miniature project that I am working on, I planned to add lions sculptures to the castle. I imagined four lions, one on each side of the keep, near the top, on bases coming from the walls. They should be the four watching lions. The legend might claim so.
I needed the lions miniatures and went to the shops to find them. After searching the whole town, not a single miniature was found. Specially one that matched the pose and size the I needed. Very disappointed, I decided that I would make the miniatures myself. So, what comes next is the description of the steps that I took to reach the closest shape of the lion that I imagined.
Step 1
I made a rectangular shape with car body filler. Cut it diagonal and horizontally as shown in picture 1. The higher side is intended for the head of the lion.
Picture 1
Step 2
Cut the edges as picture 2 shows. It resembles somewhat a rude form of an animal. On the left are the head and the forelegs more delimited.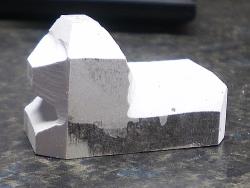 Picture 2
Step 3
Cut the edges once again. Now smoothing them to get a more rounded form and delimiting the mane. Deepening the sides to start the legs modeling. Result in picture 3.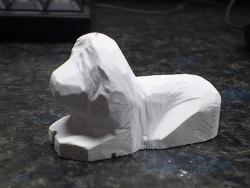 Picture 3
Step 4
At this point I began to sculpt the legs and the mane.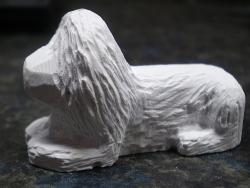 Picture 4
Step 5
The muzzle, eyes, ears and tail were the main points that the shape needed to be attained. Anyway, I did not like the result. Mainly with the muzzle shape.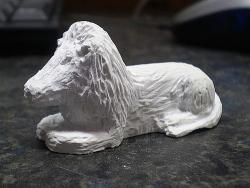 Picture 5
Step 6
At this time, I stopped the work and analyzed what I had done.